I feel like I've seen so much of the world already, but there's still a lot I want to do before I kick the proverbial bucket. Here's a list of places I want to visit, events I want to attend, and other miscellaneous things that I want to accomplish someday. Stay tuned for updates on my blog—I'll certainly be writing about each of these as they happen!
Places:
See the Pyramids of Giza and Luxor, Egypt
Visit Cuba before it "changes"
Scuba dive on the Great Barrier Reef, Australia
Walk on the Great Wall of China
Ride in a hot air balloon over the Loire Valley, France and/or Cappadocia, Turkey
See Mont St-Michel, France as the tides come in
Go to Morocco and explore Marrakech, Casablanca and see the Sahara Desert
Ride in a Sky Wheel (London or Singapore)
See volcanic lava (Hawaii or Costa Rica)
See giraffes in the wild on an African safari
Stand on the equator
Stand on all 7 continents
See the Taj Mahal and Rajasthan, India
See the Kremlin and Red Square, Russia
Visit a Hindu Temple
Visit the Holy Land, Israel
Ride an elephant in Thailand or India
Ride a camel in the desert
See the Aurora Borealis
Visit Santiago de Compostela, Spain (pilgrimage ?)
Take the high-speed train from Beijing to Shanghai
See the terracotta warriors in Xian, China
Go glacier ice climbing (again)
See Yellowstone National Park, Wyoming, USA
Explore New England, USA
Stay in an above-lagoon bungalow in Bora Bora, Tahiti
See the Rapa Nui statues on Easter Island, Chile
Visit Kyoto, Japan
Visit Ankor Wat, Cambodia
Return to Santorini, Greece
See Stonehenge, England
Enjoy a

glass of wine at the Piazza San Marco

in Venice, Italy (while the orchestra plays)
See Victoria Falls, Zimbabwe (So I can compare it to

Iguazu Falls, Argentina/Brasil

)
Do the Sydney Harbor Bridge climb, Australia
Go to the top of the Burj Khalifa, Dubai, UAE
See Uluru/Ayers Rock, Australia
Visit Chateau Frontenac, Quebec, Canada
Explore a cenote in Belize
Events:
Celebrate Carnaval in Rio de Janeiro
Celebrate Mardi Gras in New Orleans
Attend the

Tournament of Roses Parade

, Pasadena
Celebrate New Year's Eve in Times Square, New York City
Celebrate Oktoberfest in Bavaria, Germany
See the Palio in Siena, Italy
See the Running of the Bulls/Fiesta de San Fermin, Pamplona, Spain
See Las Fallas Festival in Valencia, Spain (March-April)
Celebrate Carnevale in Venice, Italy
Attend La Tomatina Festival in Bunol, Spain
Miscellaneous:
Learn another language (or two)

* Currently studying Portuguese
Take an ethnic cooking class
Be published in a national magazine
Live in a foreign country
Sky dive somewhere exotic
Participate in a flash mob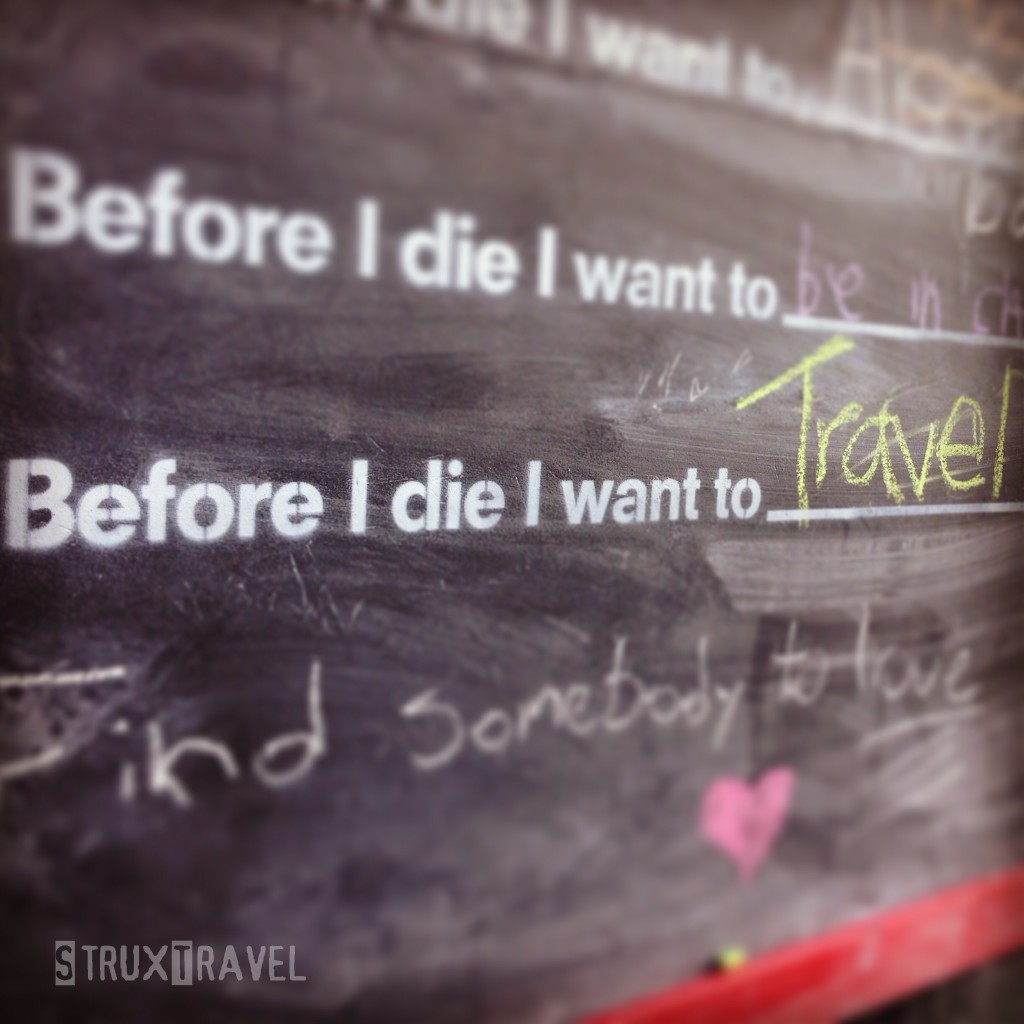 Vote for my article on WorldTravelist.com, sharing the best travel content on the web.